European Women's Remembrance – REWOMEN
mednarodni projekt
Basic Info
Project Executive on ZRC

Doc. dr. Helena Seražin , UIFS ZRC SAZU

Original Title

European Women's Remembrance

Acronym

REWOMEN

Collaborators

Barbara Vodopivec, PhD, UIFS ZRC SAZU

,

Assist. Prof. Katarina Mohar, PhD, FF UM

,

Izr. prof. dr. Marjeta Ciglenečki, Galerija mesta Ptuj

Code

618293-CITIZ-1-2020-1-RS-CITIZ-REMEM

Duration

since September 1, 2020 to July 1, 2022

Leading Partner

Financial Source

Europe for Citizens - European Remembrance
Cofinanced by Slovenian Research Agency

Partners

Institut des Croisements, Villeurbanne (France)

,

Stichting Tumba, Leeuwaarden (Netherland)

,

Multicultural city e.V., Berlin (Germany)

,

Fundacja Lodzki Szlak Kobiet, Łodz (Poland)

,

Pertej barrierave, Tirana (Albania)

,

Agorà Società Cooperativa Sociale, Genoa (Italy)

,

Amaka astiki mi kordoskopiki etaipia, Athens (Greece)

,

Polyplanity, Athens (Greece)

,

Zavod za turizem Ptuj

,

Pokrajinski muzej Ptuj – Ormož

,

Foundation Novi Sad 2021 - European Capital of Culture, Novi Sad (Serbia)

,

The Initiative for Rightfulness, Innovation and Democratic Act, Novi Sad (Serbi…

,

SOS ženski centar, Novi Sad (Serbia)

,

Ženske studije i istrazivanja, Novi Sad (Serbia)

,

Ženska alijansa za razvoj, Nikšić (Serbia)

,

University of Maribor, Faculty of Arts

,

Ptuj City Gallery
Description
With the REWOMEN project partners intend to commemorate the 20th anniversary of Proclamation of the EU Charter of Fundamental Rights through creating and disseminating the international exhibition devoted to the history of Women's Liberation Movement (WLM) in Europe. Gathering partners from 10 EU and Western Balkan countries project intend to commemorate important but not well known or marginalized women and different historical turning points and changes in women's human, political, social, economic and cultural rights. Women's Liberation Movement is one of the most significant human rights movement in the 20th century and it's a real common European history beyond national borders.
The aim of the project is to reinforce women's rights by increasing the visibility of European women's history and developing international women's solidarity.
One preparatory meeting, 4 workshops and a final international conference are planned within the project.
4 workshops will be organized for creating the concept and materials for the final interactive exhibition consists of documents, photos, texts, artifacts, articles, video material, works of art. Each workshop will be dedicated to one of 4 topics.
Women and Peace women victims of wars, women's peace movements and history of women's political rights
Women and Work the history of women's economical and labor rights.
Women and Culture the history of women's culture, heritage and feminist social theory.
Women and Freedom the history of women's social rights, especially reproductive and sexual rights.
About 120 women with different professional and social backgrounds will participate in workshops and in creation of the exhibition.
The opening of the exhibition with an international conference will be a part of the main program of Novi Sad 2021 - European Capital of Culture. Later the exhibition will travel through partner cities. The idea is to exhibit in specific public spaces.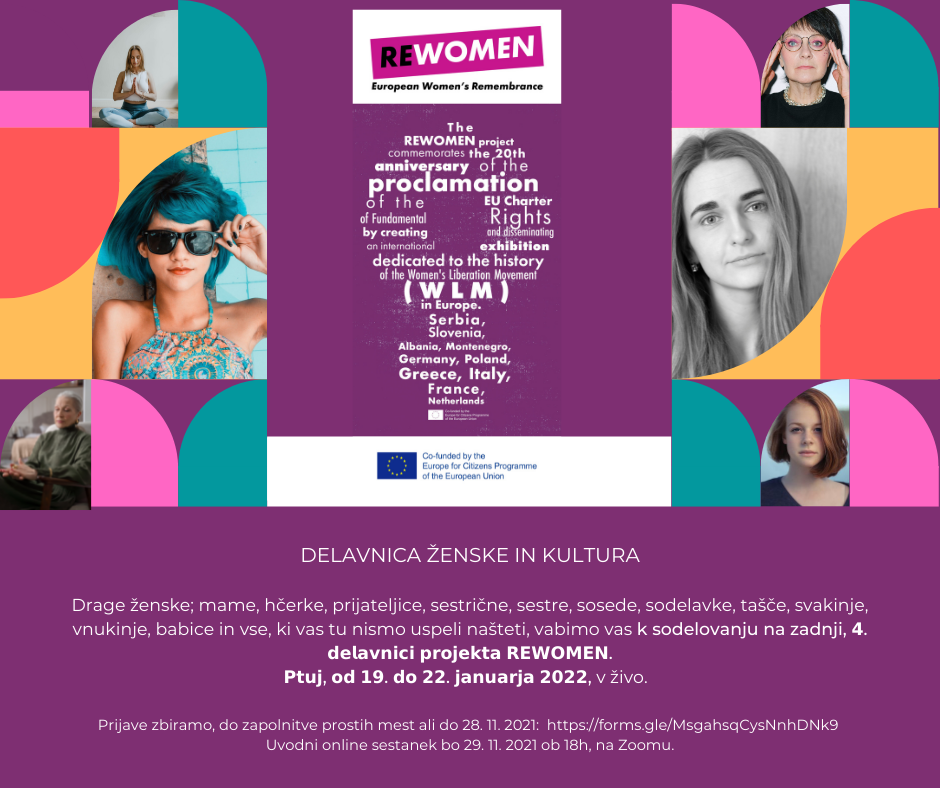 Research areas
Social and economic history H270
Art history H310
Human rights S112