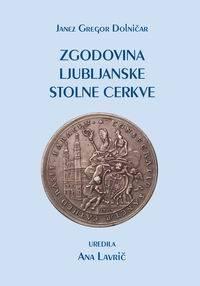 Zgodovina ljubljanske stolne cerkve.
Historia Cathedralis Ecclesiae Labacensis.
Author: Janez Gregor Dolničar [Ioannes Grogorius Thalnitscher]
Year: 2003

The manuscript Historia Cathedralis Ecclesiae Labacensis, which is housed in the Seminary Library in Ljubljana, is the most prominent work of the jurist Janez Gregor Dolničar (Johann Georg Thalnitscher; 1655–1719), a co-founder and the driving force of the first scholarly society in Ljubljana, the Academia Operosorum (founded 1693). Dolničar's work was already included in the academy's programme for 1714, but was not published. The present book is a critical edition of the manuscript, including a documentary chapter and the draft of the Historia as well as Dolničar's elogia to the bishops of Ljubljana. It contains the transcription of the Latin original, a translation into Slovene, textual-critical and content-related notes, an accompanying study and indexes of names and places.
---
Other authors

transcribed, annotated, indexed, commented and edited by




translated by




poetry translated by

Publishing House:

Založba ZRC

Publisher

ISBN

961-6358-70-7

Year

2003

Specifications

hardback 20 × 28 cm 545 pages

E-publications

Permalink