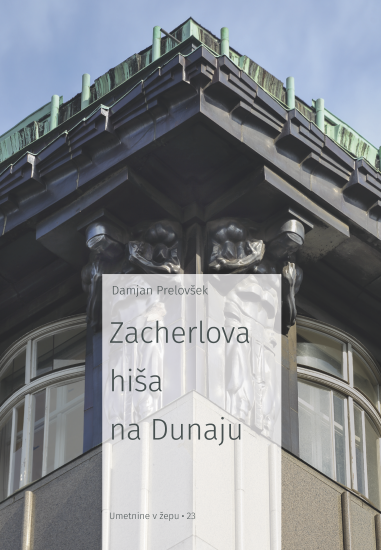 Zacherlova hiša na Dunaju.
Author: Damjan Prelovšek
Year: 2022

The booklet Zachrlova hiša na Dunaju ('Zacherl House in Vienna') is the third book about architect Jože Plečnik written by Damjan Prelovšek for the series Umetnine v žepu ('Art in the Pocket'). In 2022, the year of architect Jože Plečnik, which marks the 150th anniversary of the architect's birth, Damjan Prelovšek presents to us the story about the Zacherl House in Vienna, which was built after the architect's plans between 1903 and 1905. The building in the vicinity of St. Stephen's Cathedral is one of the key pieces in Jože Plečnik's oeuvre. In the first years of the 20th century, the architect was gradually breaking free from the Otto Wagner's teachings and the aestheticism of the Vienna Secession and grounded the turn towards the Mediterranean sense for three-dimensional values on the study of antiquity. Commissioner Johann Evangelist Zacherl, a wealthy businessman, enthusiastic about art, with whom the young Plečnik cultivated a true friendship, can be credited for the realization of the ambitious design of the Vienna building that attracts attention with its granite covering of the façade. Today, the Zacherl House is known as one of the most important buildings of the early 20th century in Vienna. With solutions that were unusual for the Viennese tradition, the building foretold the period of skeletal constructions with curtain walls, while in Plečnik's oeuvre it is considered as a ground-breaking work. In numerous later works, he made references precisely to the Zacherl House.
---
Author

Publishing House:

Založba ZRC

Publisher

ISBN

978-961-05-0624-9

Year

2022

Series

Language(s)

Specifications

paperback 21 × 13 cm 96 pages

Permalink