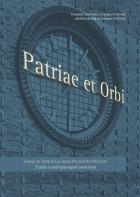 Title:
Edited by:
Other authors:
Year:
Compilation:
Keywords:
Language(s):
Table of content
Editor's Preface / Predgovor urednikov
Franci Lazarini: Damjan Prelovšek – arhitekturni zgodovinar / Damjan Prelovšek – Architectural Historian
Renata Komić-Marn: Bibliografija dr. Damjana Prelovška
Memoriae
François Burkhardt: Una vita consacrata a Plečnik
Sonja Ana Hoyer: Nekateri moji spomini na Damjana
Boris Podrecca: Gegen den Strom / Proti toku
Andrej Hrausky: Brez kompromisov. Nekaj spominov na sodelovanje z Damjanom Prelovškom
Silvester Gaberšček: Najdene "neznane" Marije
Milček Komelj: O usodi dolenjskih gradov in novomeških slikarjev. Kulturnozgodovinski spomini ob Lamutovih skicirkah
Dissertationes
Jože Plečnik
Jörg Stabenow: Sakrale Raumverwandlung. Jože Plečnik und der Kirchenbau der frühen Moderne / Sakralna preobrazba prostora. Jože Plečnik in cerkvena arhitektura zgodnje moderne
Jindřich Vybíral: Jože Plečnik and the Beginnings of Social Housing in Bohemia / Jože Plečnik in začetki socialne stanovanjske gradnje na Češkem
Tomáš Valena: Jože Plečnik und der Ortsbezug in der anderen Moderne / Jože Plečnik in odnos z lokusom v »drugačni« moderni
Mojca Jenko: Jože Plečnik in Društvo Narodna galerija / Jože Plečnik and The National Gallery Society
Aleš Vodopivec: Protislovne ocene slogovnih značilnosti Plečnikove arhitekture / Contradicting Critiques of Plečnik's Architectural Style
Dana Bořutová: A Contemplation on Parallels and Differences. Jože Plečnik and Dušan Jurkovič / Razmišljanje o sorodnostih in razlikah. Jože Plečnik in Dušan Jurkovič
Architectura
Eva Sapač, Igor Sapač: Stavbna zgodovina in prenova gradu Hompoš (Pohorski dvor) pri Mariboru / Architectural History and Renovation. of Hompoš (Pohorski Dvor) Castle near Maribor
Ivan P. Muchka: "Al costume di diversi paesi". Theorie der Architektur in der frühen Neuzeit / "Al costume di diversi paesi". Arhitekturna teorija v zgodnjem novem veku
Rostislav Švácha: Desacralization of Sokol Centres / Desakralizacija sokolskih domov
Marjeta Ciglenečki: Ulica talcev v Mariboru / Ulica Talcev Street in Maribor
Helena Seražin: Mariborska občinska palača. Zadnji vzdihljaj historizma v mestu / Maribor Municipality Palace. The Last Example of Historicism in the Town
Jacek Purchla: The Protection and Conservation of Modernist Architecture 1918–1939. The Krakow Perspective / Varstvo in konservatorstvo modernistične arhitekture iz obdobja 1918–1939. Krakovska perspektiva
Ákos Moravánszky: Re-Humanizing Architecture. Creating a Common Ground in the Post-War Years / Ponovna humanizacija arhitekture. Ustvarjanje skupnih temeljev v povojnih letih
Vladimír Šlapeta: "Architects' Resurrection". Solidarity and Friendship through the Iron Curtain (Hans Scharoun, Bremen 1893 – Berlin 1972, and Lubomír Šlapeta, Místek 1908 – Olomouc 1983) / »Vstajenje arhitektov«. Solidarnost in prijateljstvo prek železne zavese (Hans Scharoun, Bremen 1893 – Berlin 1972, in Lubomír Šlapeta, Místek 1908 – Olomouc 1983)
Fedja Košir: Arcus / Arcus
Mojca Marjana Kovač: Vila Tartini in nova vila Vinka Glanza v Strunjanu. Raziskave arhivskega gradiva in odkrivanje preteklih odločitev / Villa Tartini e nuova villa dall'architetto Vinko Glanz a Strugnano. Ricerca del materiale d'archivio e delle decisioni prese in passato
Ars et Historia
Mija Oter Gorenčič: Brsti v nekdanji spodnji cerkvi Žičke kartuzije kot pomoč pri dataciji / Crocket Forms in the Former Ecclesia Minor of Žiče Charterhouse as a Reference for Its Dating
Nataša Golob: Aurhaymovi fragmenti »Klosterneuburške evangeljske pripovedi« / Fragments of Klosterneuburger Evangelienwerk, made by Heinrich Aurhaym
Ksenija Rozman: Fortunat Bergant. Slika v Dobrli vasi / Fortunat Bergant᾽s Painting in Dobrla Vas (Eberndorf)
Blaž Resman: Veliki oltar na Dobrovi / The High Altar in Dobrova near Ljubljana
Ana Lavrič: Bratovščine na Slovenskem pod zavetniškim plaščem Marije in svetnikov  / Confraternities in Slovenia under the Cloaks of Mary and the Saints
Matjaž Ambrožič: Teološki in kanonski vidiki predjožefinskih bratovščin na slovenskem Štajerskem / Canonical and Theological Aspects of Fraternities with Regards to Slovenian Styria
France Martin Dolinar: »Na veke ostane njih spomin in njih slava ne ugasne« (Sir 45, 13). Kje so pokopani ljubljanski (nad)škofje? / Where are the Graves of Ljubljana (Arch)Bishops? And For All Time Their Progeny Will Endure, Their Glory Will Never be Blotted Out (Sirach, 44,13)
Damir Globočnik: Češki karikaturisti Gustav Jaroslav Schulz, Karel Krejčík in František Karel Kolár / Czech Caricaturists Gustav Jaroslav Schulz, Karel Krejčík and František Karel Kolár
Martin Halata: Die Blondel'sche Burg. Zur Veränderung des Stils im Interieur des kaiserlichen Appartements der Prager Burg in den Jahren 1848–1890 / Blondelski grad. O spremembi sloga v interjerju cesarskega apartmaja v praškem gradu v letih 1848–1890
Maja Lozar Štamcar: Egipčansko pohištvo ebenista Giuseppeja Parvisa, sopotnika historizma in secesije / Giuseppe Parvis, a Companion to Historicism and Art Nouveau, and His Furniture in Ancient Egyptian Style
Andrej Smrekar: Post scriptum h Groharjevi sv. Uršuli / Post scriptum on St Ursula by Ivan Grohar
Tomaž Brejc: Kaj je umetnostno pomembno? Prvi kolegiji docenta Izidorja Cankarja. Izpiski iz letnega semestra 1920 / What is Artistically Important? Assistant Professor Izidor Cankar's First Lectures. The 1920 Summer Semester Notes
Barbara Murovec: Slovenski znanstvenik. Funkcija in transformacija Miklošičeve podobe na javnih spomenikih / The Public Monuments of the Slovenian Scholar Franz von Miklosich. The Commissions and Their Function
Ivan Klemenčič: Likovna umetnost in glasba, Vprašanja vzporednosti razvoja / Fine Arts and Music. The Questions of Parallel Development
Aparatus
Literature/Literatura
Abstracts/Izvlečki
Contributors/Sodelavci
Photographic Credits/Viri slikovnega gradiva
More ...
Iztok Ilich: PATRIAE ET ORBI; Bukla let. 12/št. 122, junij 2016
Publishing House
Založba ZRC
ISBN
978-961-254-873-5
Specifications
hardback • 19 × 26,8 cm • 806 pages
Price
90,00 EUR (Regular)
45,00 EUR (Club)